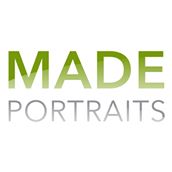 From newborn babies to toddlers, children to teenagers or from couples to families, the Made Portraits studio in Glastonbury is now many peoples first choice for their family portraits in Somerset!
In the Made Portraits photography studio in Glastonbury, photographer Neil Bremmer will capture your precious moments in time which can be beautifully presented in a choice of fantastic products. Our distinctively modern style of photography emphasises fresh, fun and real images. Made Portraits exceptional quality and first class customer service all contribute to creating lasting memories for generations to come.
Every family is different and every individual member of your family is unique. In your session, Neil will capture the things that define you so you will have portraits that do more than just show what everybody looks like, they will show your families personality.
Whether your family is your partner, your pet or 2.4 kids, Neil loves to capture the real you. Made Portraits caters to everybody no matter who makes up your family.
We want your family session to capture your family being real. We want to create a collection of candid and fun images that will work together to create a complete "portrait" of your family. The photographers at Made Portraits are regularly asked if they do child minding because the kids have so much fun in their sessions. Unfortunately, this is not a service we offer but the fantastic memories of your photography session will be well documented for you to enjoy for years to come.
 Website: www.madeportraits.com
email: [email protected]
Tel: 01458 831888