Jason Swain Photography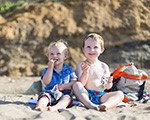 Isle of Wight family portraits by Jason Swain.
Jason's shoots are calm, relaxed and informal to make your family feel at ease, allowing him to take creative and natural photographs of your family having fun! Jason's storytelling style will capture your family enjoying real moments with your loved ones.
The sessions can take place, at your favourite location making the most of the amazing settings we have on the Isle of Wight, at the comfort of your own home & garden.
How Jason's sessions work, we meet at the chosen location. You hang out with the family and have fun as you normally would. Jason will take photos with his years of experience, knowing how to use the capture natural interactions with minimal interference and no fuss.
Please view our website for further details of Jason Swain Photography, including our different family photography packages.
Website: www.jasonswain.co.uk
email: [email protected]
Tel: 0787 203 9384