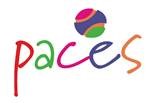 info@pacessheffield.org.uk       0114 2844488
Paces Sheffield is a leading specialist centre for children with neurological disorders, which affect their movement, communication, sensory and learning development. The charity was founded by parents of children with cerebral palsy in the early 1990s and established to provide Conductive Education for children up to the age of 19 to develop independence skills in readiness for mainstream life.
Paces began as Parents' Action for Conductive Education, which later became Positive Action for Conductive Education Sheffield when the charity was established by parents on its present site of old High Green secondary school in 1997.
Conductive education explicitly teaches children with a brain injury the skills which ordinary children learn spontaneously. The neuro-plasticity of the brain allows undamaged parts of the brain to take over new functions so children can learn by experience.
CE connects thought, language and movement together to provide a full active learning experience in a group setting, encouraging learning through purposeful movement.
                            "Education is movement and movement is education." 
Paces is a non-maintained special school which fills the gap between special and mainstream school. It is our aim to equip children for mainstream school as effectively as possible and many of our children have split placements before going to mainstream school on a full-time basis.
There are several CE centres dotted around the UK such as Steps, Nice, Pace, Stick and Step and Heel and Toe which are part of CEPEG, the professional organisation for conductors and teachers.
As well as being a non-maintained special school for children with cerebral palsy, Paces' services have expanded to include:
Early Years Outreach service for under 3s and their families at home.
Outreach service for families at different stages of life.
Family support, providing individual support to gain funding for a place at Paces, plus running workshops, information and advice sessions to help families become experts by experience.
Volunteer parents receive Befriending training in order give emotional support to each other and to new families who are finding life difficult.
Summer Schools for children with cerebral palsy for two weeks during the summer holidays.
LtV craft enterprise where young people with CP make and sell the products they create
Condition-specific groups for adults with neurological conditions for over 18s who have CP, survived a stroke, have MS or have a diagnosis of Parkinson's disease.
Paces Campus, run by High Green Development Trust, also hosts inclusive gymnastics, cookery classes, snooker and table cricket to the general public.