Sentas is a non-profit Community Interest Company.  We hope to access funding and grants from organisations who provide help to the SEN sector but these are not by any means, a guaranteed source of sustainable income. We rely on donations from the public and service users to continue to provide parents, children and young adults with help and support in their time of need.
 Your donations will help:
Provide direct support to parents and young adults in their time of need.

Help with the running costs of the Sentas website.

Meet parent and carer groups across the county to provide face to face information on SEN transport.

Produce literature and information on SEN home to school/college transport.

Review and challenge Local Authorities (LA's) SEN home to school/transport policies to ensure LA's are adhering to relevant legislation and Government guidance.
To donate today please use the button below:

Many Thanks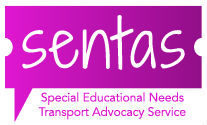 Website Supporters: