Sentas was formed to provide parents and young adults with information, advice and advocacy around issues with SEN home to school or college transport.
We offer assistance in a variety of ways:
Help with making an application for SEN home to school transport:
Sentas can advise parents on the application process and how to make an application as detailed as possible in order to increase the chances of getting accepted in the first instance. Sentas can also help parents and young adult's complete the application forms for transport assistance.
Information, advice and advocacy on the SEN home to school or college transport appeals:
Local Authorities do reject transport applications for children and young adults who ARE entitled to SEN home to school transport. Sentas can advise on the eligibility of a child or young adult and how those decisions can be appealed. Sentas can assist in the appeals process by way of advice on current guidance and legislation surrounding the issue(s) relevant to their individual case.  We can also offer more 'hands-on' advocacy support for parents and young adults, working alongside you throughout each aspect of the appeals process.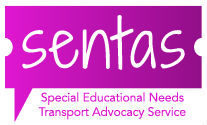 Website Supporters: